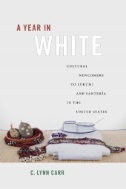 A Year in White by C. Lynn Carr
Call Number: BL2532.S3 C38 2015
In the Afro-Cuban Lukumi religious tradition—more commonly known in the United States as Santería—entrants into the priesthood undergo an extraordinary fifty-three-week initiation period. During this time, these novices—called iyawo—endure a host of prohibitions, including most notably wearing exclusively white clothing. In A Year in White, sociologist C. Lynn Carr, who underwent this initiation herself, opens a window on this remarkable year-long religious transformation. In her intimate investigation of the "year in white," Carr draws on fifty-two in-depth interviews with other participants, an online survey of nearly two hundred others, and almost a decade of her own ethnographic fieldwork, gathering stories that allow us to see how cultural newcomers and natives thought, felt, and acted with regard to their initiation...Offering insight not only into Santería but also into religion more generally, A Year in White makes an important contribution to our understanding of complex, dynamic religious landscapes in multicultural, pluralist societies and how they inhabit our daily lives.
Varieties of African American Religious Experience by Anthony B. Pinn
Call Number: BL2490 .P46 1998
Pinn provides an insider look at Voodoo, Orisha devotion, Santeria, the Nation of Islam, and Black Humanism in the U.S. Focusing less on institutional and doctrinal history and more on the varied popular religious practices and sites, his volume highlights the influence of Caribbean religions in the U.S., practices of divination and healing, the surge of black Muslim religion, the emergence of black humanism, religious influences on the ethical practices of black women, and the import of previously overlooked religious settings (e.g., church women's clubs, local politics, Pentecostal religion, private religious practices).